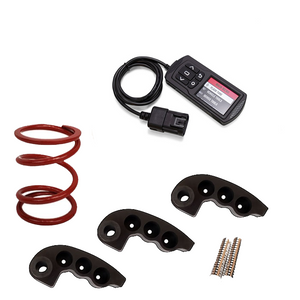 This kit includes the minimum parts you need to make some serious power! No matter if you ride trails, mud, or dunes, we know your RZR S 1000 needs more power. Our custom Power Vision 3 Controller tuning features a locked throttle by wire along with a raised rev limiter, raised speed limiter, optimized timing curve, and optimised fuel curve. Locking the TBW is a huge deal as the stock program limits your throttle position at various times as a sort of traction control. With our base program, you gain big acceleration, hold max RPM better, can rev higher, and go faster. The RZR S 1000 timing curve is weak from the factory which is one big reason for it being down on power compared to the XP 1000. We wake up this single throttle body monster and unleash the full potential. Peak numbers are not huge with this tune, but the low and mid-range gains are simply unreal! Our Stage 1 clutch kit includes our Goldstar magnetic adjustable primary weights and a custom BMP primary spring. These simple clutch changes allow the motor to rev where the real power is.
Bikeman Performance Emissions Regulation Notice
*Once this performance tuner has been installed on your vehicle, the vehicle is considered "For Competition Use Only"
§1068.235 Exempting nonroad engines/equipment used solely for competition.
(b) If you modify any nonroad engines/equipment after they have been placed into service in the United States so they will be used solely for competition, they are exempt without request.
(c) If you modify any nonroad engines/equipment under paragraph (b) of this section, you must destroy the original emission labels. If you loan, lease, sell, or give any of these engines/equipment to someone else, you must tell the new owner (or operator, if applicable) in writing that they may be used only for competition.
Owner Responsibility:
Individuals engaging in performance enhancement and support must understand and comply with applicable Federal and State laws, including but not limited to compliance with US Environmental Protection Agency (EPA) emissions regulation. To use the competition exemption noted above:
Owners must destroy any existing emissions label installed by the manufacturer. If the emissions label is combined with other content, only the portion of the label related to emissions need be destroyed. This does not pertain to vehicles already exempted and labeled as competition-only vehicles from the factory
Owners of vehicles modified for competition must inform, in writing, any purchaser of the vehicle that it has been exempted from EPA regulations and therefore may be used only for competition.
By installing this performance tuner, you recognize that Bikeman Performance has informed you of certain obligations necessary for competition use of your vehicle.